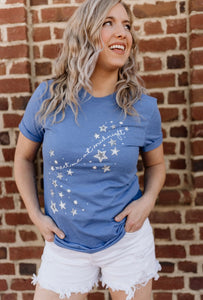 Capture the magic of Taylor Swift's bewitching world with our "Midnight" Tee, a creation that embodies the enigmatic charm and poetic grace of Taylor's music. This shirt is more than fabric and ink; it's an homage to the deep emotions and midnight reveries that Taylor weaves into her art.
Design: Our tee boasts a captivating design that mirrors the essence of a starlit midnight sky. The darkness is adorned with delicate, shimmering stars and moonlit accents, reflecting the depth and mystery of Taylor Swift's lyrical prowess. 
Material: Crafted from premium, soft fabric, this tee offers a luxurious feel against your skin, ensuring both comfort and durability. 
Fit: Available in sizes Small-3X, this tee offers a relaxed, comfortable unisex fit suitable for everyone. Color: Heather Royal Blue.
Step into the enchanting world of midnight dreams and let the "Midnight" Tee be your guiding star through Taylor Swift's mesmerizing musical cosmos. Wear it proudly and let the night come alive with your love for her art. 🌌🎶