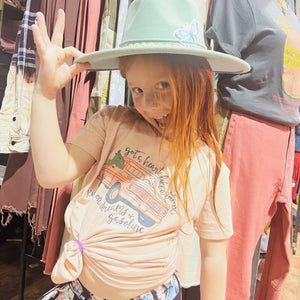 Introducing the Lainey Wilson-inspired Youth Tee, a testament to the boundless spirit and resilience that defines both country music and the hearts of our young dreamers. Crafted on Bella Canvas in a delightful Peach Triblend, this shirt embodies the essence of Lainey Wilson's unwavering passion. The front showcases a vintage-inspired truck, a symbol of adventure and relentless pursuit, alongside her empowering quote, "Got a heart like a truck, runs on dreams and gasoline."
Designed for the spirited youth, this tee embodies the fusion of Lainey's lyrical prowess and a vibrant aesthetic. The Peach Triblend hue infuses a touch of warmth while complementing the nostalgic design. Available in sizes Small through Large, it ensures a comfortable and stylish fit for every young dream-chaser.
Crafted with a blend of comfort and durability, this shirt is perfect for everyday wear or those moments where a dash of Lainey's unwavering determination is needed. Whether worn solo or layered with other favorites, this tee is a powerful statement piece that exudes confidence, resilience, and a whole lot of country charm.
Embrace the indomitable spirit of Lainey Wilson's music and embody her inspiring energy with this Youth Tee. It's more than just a shirt—it's a tribute to the dreamers and the go-getters, reminding them that their hearts run on dreams and the unstoppable fuel of perseverance.
Youth Bella Canvas crew neck tee. Color Peach Triblend. Available in sizes Small, Medium, Large.