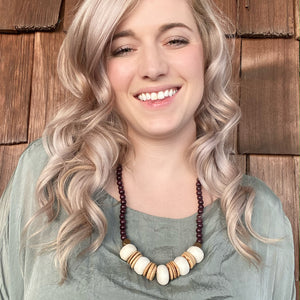 Grace Gives Back Necklace.
She has Grace in her heart and fire in her soul.
Chucky White, Coconut Shell Disc and Gray Wood Beaded 27" Necklace
10% of the Sales from the Blue Jean Gives Back Jewelry Collection is donated to The Hunger Project. The Hunger Project is a global, non-profit, strategic organization committed to the sustainable end of world hunger. Their mission is to end hunger and poverty by pioneering sustainable, grassroots, women-centered strategies and advocating for their widespread adoption in countries throughout the world.