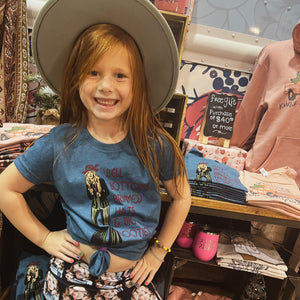 Introducing the Lainey Wilson-inspired Youth Tee, a vibrant fusion of style and spirit! Crafted on Bella Canvas in a captivating Heather Deep Teal, this shirt encapsulates the essence of Lainey Wilson's infectious energy. The front proudly showcases Lainey herself, radiating her country charm, paired with her signature quote, "Bell Bottoms, Brimmed Hats & Big Booties."
Crafted for the young at heart, this tee brings together Lainey's love for retro vibes and individuality. The Heather Deep Teal hue adds a modern touch while complementing the vintage-inspired design. Made available in sizes Small through Large, it ensures a comfortable and stylish fit for every young fan.
Constructed with quality in mind, the shirt blends softness and durability, making it perfect for everyday wear or those special occasions where a touch of Lainey's vivacious spirit is needed. Whether worn solo or layered with other favorites, this tee is a statement piece that exudes fun, confidence, and a whole lot of country charm.
Embrace the rhythm of Lainey Wilson's music and embody her free-spirited vibe with this Youth Tee. It's not just a shirt—it's a celebration of individuality, style, and the vibrant energy that defines Lainey's music.
Youth Bella Canvas crew neck tee. Color Heather Deep Teal. Available in sizes Small, Medium, Large.